I am so excited to share my first post for the Love My Fabric store using their lovely fabric. I made this pillow for Mother's Day for my mother. I had fun making piping which I hadn't done in a really long time. I used the Louise Garden Quilt Pattern for the pillow and the instructions and template are fabulous.
Wildflower Fat Quarter Bundle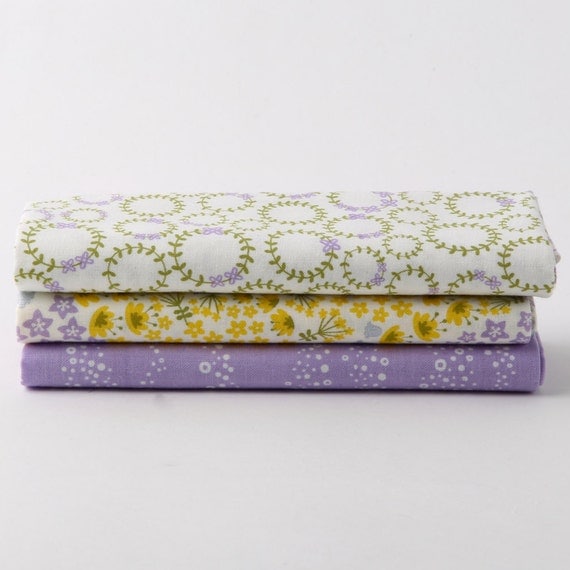 This fat quarter bundle comes pre-designed with hand-selected coordinating fabrics that are very cute and flattering together. Each fabric in the bundle complements the other in a very eye-appealing way.
Here are some close-ups of my pillow.
I took some photos for you of how I made my piping. It is a great accent to so many projects. Here are the steps that I followed:
1. Determine the width of your bias by taking your cording size and multiplying it by two. Then multiply the seam allowance .25 by two and add those together. I had 1/2" cording so I multiplied (2 X .5) + (2 X .5) = 2 inch wide bias strips.
2. Next to find the length of piping you will need double the pillow's width and length and then add an additional 4 inches. Mine was 17" square so my formula looked like this (2 X 17) + (2 X 17) +4 =72 inches. So I needed at least 72 inches of 2" wide bias strips.
3. Fold the bottom left corner of your fabric up to and matching the top edge. The fold that this makes is your bias and you are going to want to mark that line with a removable marker.
4. You will then take your ruler and draw lines on either side of the main line two inches apart until you have enough length for the measurement from above.
5. Your ends will have an angle to them and you need to trim them up.
6. You will then need to match up your strips as shown below and draw a line down from the left corner as this will be your stitching line.
Once they are all sewn together you will have one long strip of bias tape that is ready to use however you want.
Hope you have found this helpful and have a great day. Be sure to click on the link for the store and check out all the wonderful fabric.
Hugs,